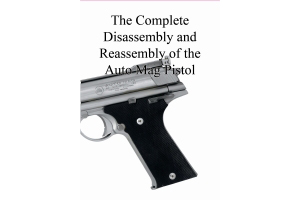 Okay everybody, you all now have the opportunity to purchase a DVD of a maven disassembling and then reassembling an Auto Mag with full audio commentary. This shows a complete takedown and all of the tips and tricks involved. This video is a valuable resource for repairing or replacing parts, or just gaining a deeper understanding of this classic firearm. Total cost to you including shipping and handling to a domestic address is $46!
I'll ship abroad, but naturally international shipping will be a bit more expensive. Please pay with a bank cashier's check, postal money order, or cash. No personal checks please.
Please make your desire known to me on my email at
bert@automagheaven.com
!
Remember, this may be an old posting on his site and price maybe higher now. You need to copy his email address
bert@automagheaven.com
, then start your email vendor(gmail, yahoo or whatever) and then start an email and post his address (listed above in red) where it says to. Then ask him how much and all the info you need to get it done.
OK, now you got the info here.